USB-C™ Aluminium Multiport Adapter
adds one Ethernet, one HDMI™, one VGA, one mini DisplayPort and three USB-A 3.0 connections as well as one 3.5 mm jack connection and a card reader for SD and micro SD cards to a USB-C™ device

USB-C™ Aluminium Multiport Adapter
adds one Ethernet, one HDMI™, one VGA, one mini DisplayPort and three USB-A 3.0 connections as well as one 3.5 mm jack connection and a card reader for SD and micro SD cards to a USB-C™ device
Article details
USB-C™ Multiport Adapter made of aluminium extends a USB-C™ device with an Ethernet-, a 3,5 mm jack socket, a card reader for SD- and Micro-SD cards, a HDMI™-, a VGA-, a Mini DisplayPort & 3 USB A 3.0 connectors.
Function - The multiport adapter mirrors signals from USB-C™ to the most common ports and is therefore the perfect all-in-one solution.
Power Delivery 60 W - Enables charging of end devices with a power of up to 60 watts. This means that large notebooks, hubs or docking stations, for example, can be charged without difficulty.
Resolutions - The USB-C™ Multidock supports VGA screen resolutions up to 1920x1200@60Hz and HDMI™, and Mini DisplayPort connection, up to 4k*2k@30Hz.
Network function - Built-in Ethernet port ensures super-fast network connection in the Gigabit range.
Reading from memory cards - Integrated card reader enables reading from SD and MicroSD cards. In addition, three USB A 3.0 ports have been installed.
Use - Suitable for the MacBook, MacBook Pro and other devices with a USB-C ™ connection.
Plug & Play - The USB-C™ multiport adapter can be used without installing drivers.
Technical specifications
Device connections
Output 2, type
3 USB 3.0 female (Type A)
Output, type
USB-C™ female
Output 3, type
HDMI™ female (Type A)
Output 4, type
VGA female HD (15-pin)
Signal transmission
max. transmission rate
5 Gbit/s
General
Packaging type
Retail Box
Consumption Unit
1 pc. cardboard box
Language Scope
Operation manual
en, de, fr, it, es, nl, da, se, pl, cz
packaging
en, de, fr, it, es, nl, da, sv, pl, cs
€99.99 RRP
Packing units:
1 / 10 / 40
Item: 62113
EAN: 4040849621130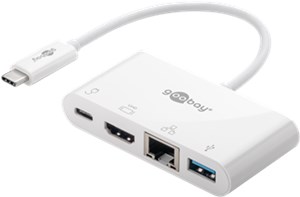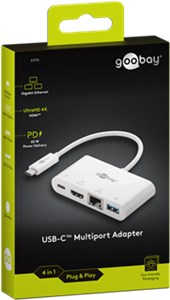 Goobay
USB-C™ Multiport-Adapter (HDMI™ + Ethernet, 60 W Power Delivery)
Adds Ethernet, HDMI™ and USB 3.0 ports to a...
1 pc. in cardboard box, Retail Box
Single product
---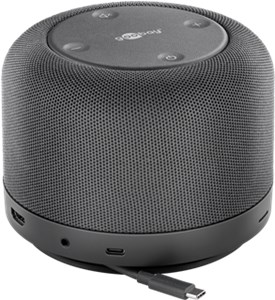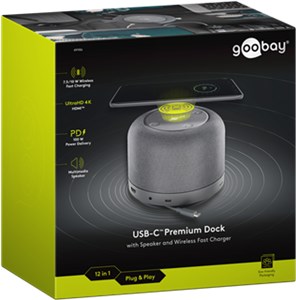 Goobay
USB-C™ 12 in 1 Multiport Dock with Wireless Fast Charging, Power Delivery 100 W & Multimedia-Speaker
The USB-C™ Multiport Dock adds 3 USB A 3.0 ...
Single product
---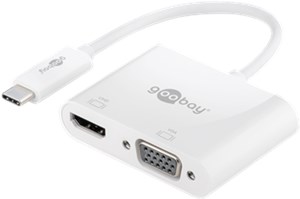 Goobay
USB-C™ Multiport Adapter HDMI™+VGA
extends USB-C™ device to an HDMI™ - and a V...
1 pc. in polybag, Retail Polybag
Single product
---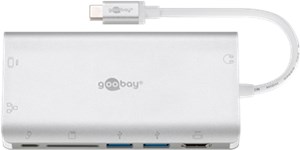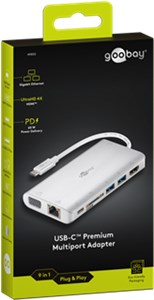 Goobay
USB-C™ Premium Multiport Adapter
USB-C™ <-> HDMI™+ 2x USB 3.0 + CR + C + RJ4...
1 further products
---