Watch
SR416 (V337)
silver oxide-zinc button cell, 1.55 V
Watch
SR416 (V337)
silver oxide-zinc button cell, 1.55 V
Article details
Reliable and high quality cells for a wide range of digital and analogue clocks.
VARTA button batteries V337 are a premium, brand-quality product that is suitable for many small devices.
Used in digital and analogue watches, calculators and medical devices
The button cell SR416 is a reliable power source for everyday use.
The button cell battery offers durability and guarantees high performance.
These silver-oxide batteries have a high energy density and good temperature behaviour.
High-quality materials ensure a high capacity and quality of the watch batteries.
Technical specifications
Battery
Technology
silver Oxide-Zinc Battery
General
Consumption Unit
10 pcs. in box
Item: 48035
EAN: 4008496362110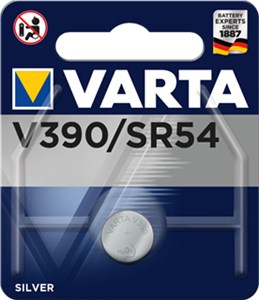 Varta Professional Electronics
SR54 (V390)
silver oxide-zinc button cell, 1.55 V
Single product
---
Varta Watch
SR63 (V379)
silver oxide-zinc button cell, 1.55 V
Single product
---
Varta Watch
SR57 (V395)
silver oxide-zinc button cell, 1.55 V
Single product
---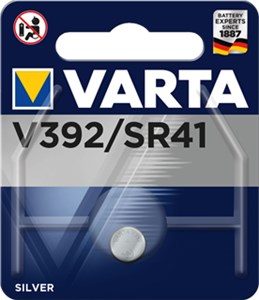 Varta Professional Electronics
SR41 (392)
silver oxide-zinc button cell, 1.55 V
Single product
---
Varta Watch
SR731 (V329)
silver oxide-zinc button cell, 1.55 V
Single product
---
Varta Watch
SR60 (V364)
silver oxide-zinc button cell, 1.55 V
Single product
---