Basic
Speaker mount universal
universal speaker holder for wall mounting, (swivel and tilt) for speakers up to max. 3.5kg, black

Basic
Speaker mount universal
universal speaker holder for wall mounting, (swivel and tilt) for speakers up to max. 3.5kg, black
Article details
The ideal wall mount for satellite speakers weighing max. 3.5 kg, which is mounted on the single thread or a double thread of the speaker. It is a quick and simple installation solution with plug-in wall plate design. Arcuate adjustment structure allows an inclination of 20 ° up and down and 70 ° left or right. This enables ideal sound conditions. The adjustment knob provides a simple, tool-free way to align the speaker so that the desired sound conditions are achieved. The holder has a wall distance of 64 mm.
Elegant and compact, the wall mount offers a secure hold and a variety of adjustment options.
Ideal for surround and HiFi systems. Universally applicable for all speakers with a weight of up to 3.5kg.
Optimal and easy (tool-free) alignment due to the fine head joint (can be tilted up to 20° and tilted 70°).
The speaker is mounted to the bracket using the screw points in the speaker. The wall mounting screws of the bracket disappear elegantly behind the cover.
suitable for speakers of all popular brands (e.g. Bose, B&O, Canton, Harman-Kardon, LG, Magnat, Philips, Pioneer, Samsung, Sony, Teufel, Yamaha)
Technical specifications
Performance
inclination and tilting ranges
20 °
General
Packaging type
Retail Box
Consumption Unit
1 pc. cardboard box
Scope of delivery
Assembly Material
dowel, screws
Language Scope
Operation manual
en, de, fr, it, es, nl, da, se, pl, cz
packaging
en, de, fr, it, es, nl, da, sv, pl, cs
Item: 49393
EAN: 4040849493935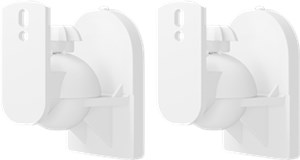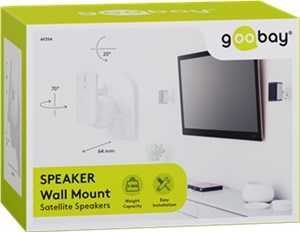 Goobay Basic
Speaker mount universal
universal speaker holder for wall mounting,...
Single product
---