Longlife Power
LR14/C (Baby) (4914)
alkaline manganese battery, 1.5 V
Longlife Power
LR14/C (Baby) (4914)
alkaline manganese battery, 1.5 V
Article details
VARTA C batteries 4914 are reliable energy dispensers for the constant power supply to electric devices.
Particularly powerful for optimal performance in energy-intensive devices.
Batteries are suitable for electronic toys, clocks and torches.
The batteries LR14 are resistant to heat and cold.
Unused and packaged VARTA batteries stay fresh and charged for up to 10 years.
The C batteries are a high-quality branded product ("Made in Germany").
Technical specifications
Battery
Construction form
Nipple-Top
Construction size
C (Baby)
Technology
alkaline manganese battery
General
Packaging type
Retail Blister
Consumption Unit
2 pc. blister
€6.49 RRP
Packing units:
1 / 10 / 100
Item: 46824
EAN: 4008496559312
Varta Longlife
LR03/AAA (Micro) ((4103)
alkaline manganese battery, 1.5 V
Single product
---
Varta Industrial
6LR61/6LP3146/9V Block (4022)
alkaline manganese battery, 9 V
Single product
---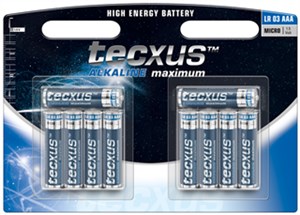 Tecxus Alkaline maximum
LR03/AAA (Micro)
alkaline manganese battery, 1.5 V
Single product
---
Varta Longlife Power
LR6/AA (Mignon) (4906)
alkaline manganese battery, 1.5 V
Single product
---
Varta Longlife Power
6LR61/6LP3146/9V Block (4922)
alkaline manganese battery, 9 V
Single product
---
Varta Energy
LR03/AAA (Micro) (4103)
alkaline manganese battery, 1.5 V
10 pcs. in box, Retail Box
1 further products
---