Lightning/USB-C™ PD Charging Set (30 W)
USB-C™ power supply 30 W including USB-C™ on Lightning cable for e.g. iPhone 12

Lightning/USB-C™ PD Charging Set (30 W)
USB-C™ power supply 30 W including USB-C™ on Lightning cable for e.g. iPhone 12
Article details
with intelligent device detection and Power Delivery charges up to 4 times faster than standard chargers.
Quick charger allows direct charging at the socket or on the PC with up to 3.0 A.
The USB-C™ charger plug is especially suitable for iPhone, iPad, AirPod and iPod thanks to the Apple Lightning connector.
The integrated protection electronics of the USB-C™ charging port shields connected devices against overcurrent, overcharging and overheating.
Thanks to its compact design, the USB-C™ charger fits in any bag and is an ideal travel companion.
Thanks to its 100-240 V input voltage range, the Goobay USB-C™ power adapter can also be used abroad.
The Goobay charging set consists of 1x USB-C™ charger with 1x USB-C™ to Lightning charging cable.
Technical specifications
General
Packaging type
Retail Polybag
Dimensions / Weight
Consumption Unit
1 pc. in polybag
Downloads
Item: 64574
EAN: 4040849645747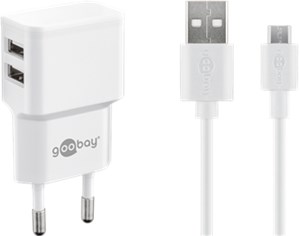 Goobay
Dual Micro USB Charger Set (18 W)
power unit with 2x USB ports and Micro USB ...
Single product
---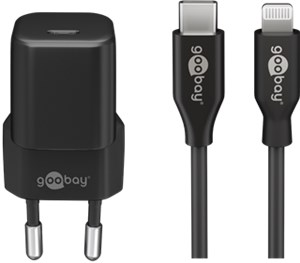 Goobay
Lightning/USB-C™ PD Charging Set Nano (20 W)
USB-C™ power supply 20 W including USB-C™ t...
Single product
---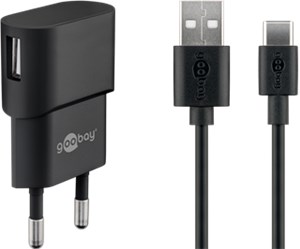 Goobay
USB-C™ Charger Set (5 W)
power unit with USB-C™ cable 1m (black)
Single product
---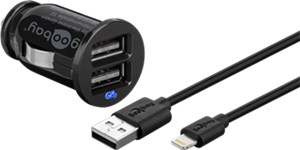 Goobay
Apple Lightning Car Charger Set (12 W)
vehicle charging adapter with two USB ports...
Single product
---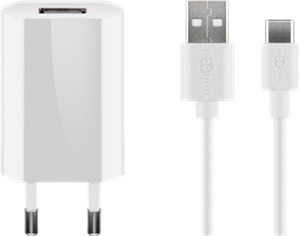 Goobay
USB-C™ Charger Set (5 W)
power unit with USB-C™ cable 1m (white)
Single product
---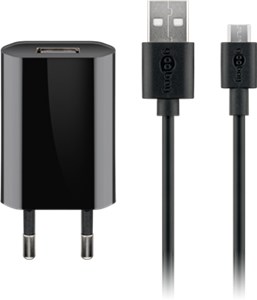 Goobay
Micro-USB Charger Set (5 W)
power unit with Micro USB cable 1m (black)
Single product
---