Professional Electronics
CR2430 (6430)
lithium button cell, 3 V
Professional Electronics
CR2430 (6430)
lithium button cell, 3 V
Article details
High-tech primary button batteries designed to provide reliable power for small electronic devices such as toys, electronic games and computers, fitness equipment, security devices and alarm systems, electronic calculators, car keys, remote controls and medical applications
VARTA button batteries 6430 are a premium, brand-quality product that is suitable for various small electronic devices.
Suitable for garage openers, car keys, scales and medical devices
The button cell CR2430 is a reliable power source for everyday use.
The button cell battery offers durability and guarantees high performance.
These lithium cell batteries have a high energy density and good temperature behaviour.
High-quality materials ensure a high capacity and quality of the button battery.
Technical specifications
Battery
Technology
lithium battery
General
Packaging type
Retail Blister
Consumption Unit
1 pc. blister
Item: 48061
EAN: 4008496276929
Varta Professional Electronics
CR1632 (6632)
lithium button cell, 3 V
Single product
---
Varta Professional Electronics
CR2032 (4022)
lithium button cell, 3 V
Single product
---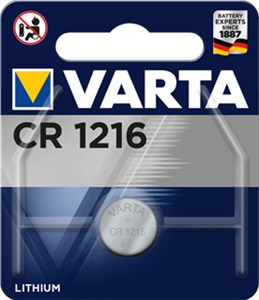 Varta Professional Electronics
CR1216 (6216)
lithium button cell, 3 V
Single product
---
Varta Professional Electronics
CR2032 (4022)
lithium button cell, 3 V
Single product
---
Varta Professional Electronics
CR2450 (6450)
lithium button cell, 3 V
Single product
---
Varta Professional Electronics
CR2025 (6025)
lithium button cell, 3 V
Single product
---