3x AA (Mignon) Battery Holder
Loose cable ends, switchable, water-repellent

3x AA (Mignon) Battery Holder
Loose cable ends, switchable, water-repellent
Article details
The Goobay battery holder can be built into or attached to a battery-operated device.
3 AA batteries can be inserted into the water-repellent, black plastic housing.
The compartment holds the AA batteries securely and firmly in place and provides a constant supply of power.
The AA battery holder is equipped with an on-off switch and loose cable ends.
Technical specifications
Battery
suitable battery size
AA (Mignon)
suitable IEC battery types
FR6, HR6, LR6
Connections
Connection, type
Loose cable ends
General
Special feature
switchable, water-repellent
Operating temperature from
-20 °C
Operating temperature up to
50 °C
Dimensions / Weight
Consumption Unit
1 pc. bulk
Downloads
Item: 12445
EAN: 4040849124457
Accessories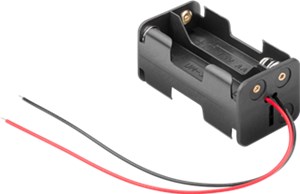 Goobay
4x AA (Mignon) Battery Holder
Loose cable ends
Single product
---
Goobay
3x AAA (Micro) Battery Holder
Loose cable ends, switchable, water-repelle...
Single product
---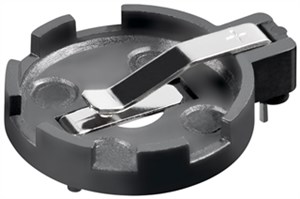 Goobay
Button Cell Holder for CR2012 to CR2032
max. 20 mm, black, Print assembly, horizont...
Single product
---
Goobay
1x 9 V Block Battery Clip
Loose cable ends, water-repellent
Single product
---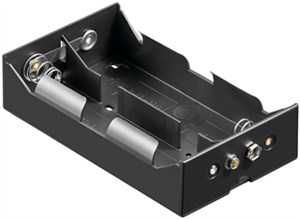 Goobay
4x D (Mono) Battery Holder
Push on
Single product
---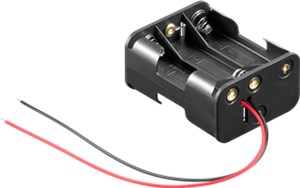 Goobay
6x AA (Mignon) Battery Holder
with loose cable ends, black
Single product
---