USB-C™ PD Charging and Sync Cable 100 W
for devices with a USB-C™ connection, Black

USB-C™ PD Charging and Sync Cable 100 W
for devices with a USB-C™ connection, Black
Article details
The Goobay USB-C™ cable for super-fast charging thanks to the Power Delivery function with a maximum of 5 A / 100 W / 20 V.
The USB charging cable has a SuperSpeed+ data transfer rate of up to 20 Gbit/s (40x faster than USB 2.0).
USB 3.2 cable suitable for fast data transfer, synchronising and charging of devices
The flexible 0.5 m USB-C™ charging cable is extra short to bridge smaller distances, e.g. in a car or truck.
The USB Type-C cable can be connected to PC, laptop, external hard drive, tablet, smartphone, Bluetooth speaker, etc.
The USB-C™ plug is reversible, meaning both plugs can be used interchangeably.
The high-quality materials of the Goobay Type-C charging cable ensure excellent transmission quality.
Technical specifications
Connections
Connection 2, type
USB-C™ male
Connection, type
USB-C™ male
Performance
product.attribute.techdat-connections-standard
USB 3.2 Gen 2x2 (USB 3.2 )
Technical Details
max. 20.0 V / 5.0 A (100.0 W)
Device connections
Output, max. amperage
5.0 A
Cable
Inner conductor material
CU (copper)
Kink protection
both sides
Signal transmission
max. transmission rate
20 Gbit/s
General
Packaging type
Retail Polybag
Consumption Unit
1 pc. in polybag
Special feature
USB type C™ PD charger
€9.99 RRP
Packing units:
1 / 125 / 250
Item: 49252
EAN: 4040849492525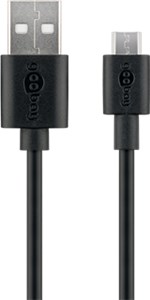 Goobay
Micro-USB Charging and Sync Cable
for Android devices, black
4 further products
---
Goobay
USB-C™ to USB-A Textile Cable with Metal Plugs 1 m
elegant and extra-robust connection cable f...
2 further products
---

Goobay
Apple Lightning audio connection cable, (3.5 mm), 1 m black
for connecting an iPhone/iPad with an audio...
Single product
---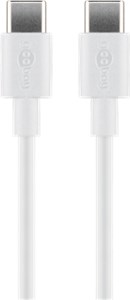 Goobay
USB-C™ Charging and Sync Cable
for devices with a USB-C™ connection, white
2 further products
---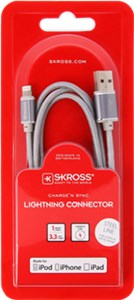 Skross
Charge'n Sync Lightning Connector - Steel Line, white
for all Apple devices with Lightning Connec...
Retail Blister, Apple Lightning male (8-pin)
2 further products
---
Goobay
USB-C™ Charging and Sync Cable
for devices with a USB-C™ connection, Black
2 further products
---