USB-C™ PD GaN Fast Charger Nano (30 W) black
1x USB-C™ port (Power Delivery)

USB-C™ PD GaN Fast Charger Nano (30 W) black
1x USB-C™ port (Power Delivery)
Article details
compatible with the following models:

Apple iPhone:
iPhone 14, iPhone 14 Plus, iPhone 14 Pro, iPhone 14 Pro Max, iPhone 13 Pro, iPhone 13 Pro Max, iPhone 13 mini, iPhone 13, iPhone 12 Pro, iPhone 12 Pro Max, iPhone 12 mini, iPhone 12 iPhone 11 Pro, iPhone 11 Pro Max, iPhone 11, iPhone SE (2nd generation), iPhone XS, XS Max iPhone, iPhone XR, iPhone X, iPhone 8, iPhone 8 Plus

Apple iPad:
12.9'' iPad Pro (4th generation), 12.9'' iPad Pro (3rd generation), 12.9'' iPad Pro (2nd generation), 12.9'' iPad Pro (1st generation), 11'' iPad Pro (2nd generation), 11'' iPad Pro (1st generation), 10.5'' iPad Pro, iPad Air (4th generation), iPad Air (3rd generation), iPad (8th generation), iPad (7th generation), iPad mini (5th generation)

Apple AirPod:
or Apple AirPods, AirPods Pro, AirPods with wireless charging case (Gen. 2)
Quick charger is extremely handy, slim and light as a feather.
With Power Delivery, charges up to 4 times faster than conventional USB power supplies (from 0 % to 50 % in 30 minutes)
Thanks to its compact design, the USB-C™ adapter fits in any pocket and is the ideal travel companion.
Uses semiconductors with GaN technology, which allows for faster and more efficient charging and a lighter, more compact design compared to conventional chargers.
The integrated protection electronics of the USB-C™ charging port shields connected devices against overcurrent, overcharging and overheating.
Due to the 100-240 V input voltage range, the Goobay USB-C™ power adapter can also be used abroad.
The Goobay USB-C™ charger nano is equipped with 1x USB-C™ port with Power Delivery.
Technical specifications
Performance
Output
5.0 V max. 3.0 A (15.0 W) DC
9.0 V max. 3.0 A (27.0 W) DC
12.0 V max. 2.5 A (30.0 W) DC
15.0 V max. 2.0 A (30.0 W) DC
20.0 V max. 1.5 A (30.0 W) DC
Device connections
Input, type
Euro male (Type C CEE 7/16) x in
Output, type
USB-C™ PD (Power Delivery)
Output, voltage (DC)
5 V (DC)
Output, max. amperage
3 A
Input, Voltage Range
100 - 240 (AC) V
Output, voltage (DC)
5.0 V (DC)
Output, max. amperage
3.0 A
General
Packaging type
Retail Polybag
Dimensions / Weight
Consumption Unit
1 pc. in polybag
accessory - Power supply
Efficiency at low load (10 %)
82.11 %
Average active efficiency
82.79 %
Language Scope
Operation manual
cz, da, de, en, es, fr, it, nl, pl, se
Downloads
€19.99 RRP
Packing units:
1 / 100 / 200
Item: 59715
EAN: 4040849597152
Goobay
Dual USB Fast Charger QC 3.0 (28 W) white
1x USB-A port and 1x USB-A port Quick Charg...
1 further products
---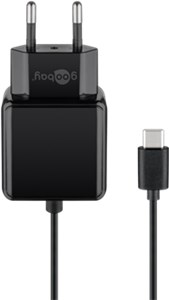 Goobay
USB-C™ Power Supply (15 W)
universal charger for devices with USB-™ co...
Single product
---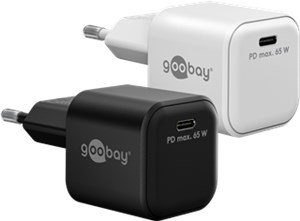 Goobay
USB-C™ PD Quick Charger Nano (65 W) black
1x USB-C™ port (Power Delivery)
1 further products
---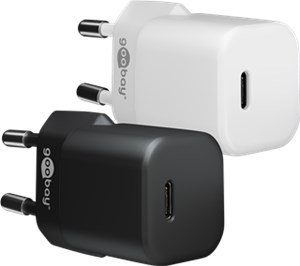 Goobay
USB-C™ PD Fast Charger Nano (20 W) black
1x USB-C™ port (Power Delivery)
1 further products
---
Goobay
USB-C™ PD Quick Charger Nano (45 W) black
1x USB-C™ port (Power Delivery)
1 further products
---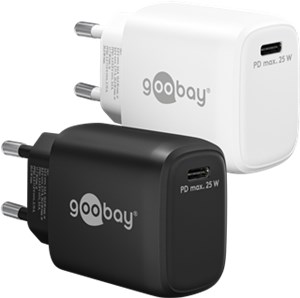 Goobay
USB-C™ PD Fast Charger (25 W) white
1x USB-C™ port (Power Delivery)
1 further products
---