USB-C™ PD (Power Delivery) Fast Charger Nano (20 W) Black
suitable for devices with USB-C ™ (Power Delivery), such as iPhone 12

USB-C™ PD (Power Delivery) Fast Charger Nano (20 W) Black
suitable for devices with USB-C ™ (Power Delivery), such as iPhone 12
Article details
compatible with the following Apple iPhone models: iPhone 13 Pro, iPhone 13 Pro Max, iPhone 13 mini, iPhone 13, iPhone 12 Pro, iPhone 12 Pro Max, iPhone 12 mini, iPhone 12 iPhone 11 Pro, iPhone 11 Pro Max, iPhone 11, iPhone SE (2nd generation), iPhone XS, XS Max iPhone, iPhone XR, iPhone X, iPhone 8, iPhone 8 Plus Apple iPad models: 12.9" iPad Pro (4th generation), 12.9" iPad Pro (3rd generation), 12.9" iPad Pro (2nd generation), 12.9" iPad Pro (1st generation ), 11" iPad Pro (2nd generation), 11" iPad Pro (1st generation), 10.5"iPad Pro, iPad Air (4th generation), iPad Air (3rd generation), iPad (8th generation ), iPad (7th generation), iPad mini (5th generation) or Apple AirPods, AirPods Pro, AirPods with wireless charging case (Gen.2)
Quick charger is extremely handy, slim and light as a feather
Lädt durch Power Delivery bis zu 4x schneller als Standard-Netzteile (in 30 min. von 0 % auf 50 %)
Schnellladegerät ist kompatibel mit Smartphones wie Apple, Samsung, Xiaomi, LG, Huawei, sowie Tablets wie Apple iPad und externen Akkus.
Die integrierte Schutzelektronik des USB-C™-Steckers sichert angeschlossene Geräte gegen Überstrom, Überladung und Überhitzung.
Aufgrund des Eingangsspannungsbereichs von 100-240 V ist das Goobay-USB-C™ Netzteil auch im Ausland einsetzbar.
Das Goobay-USB-C™-Ladegerät nano ist mit 1x USB-C™-Anschluss mit Power Delivery ausgestattet.
Technical specifications
Performance
Average active efficiency
82.79 %
Efficiency at low load (10 %)
82.11 %
Output
5.0V max. 3.0A (15.0W)
9.0V max. 2.22A (20.0W)
12.0V max. 1.67A (20.0W)
No-load power consumption
0.021 W
Device connections
Input, type
Euro male (Type C CEE 7/16)
Output, type
USB-C™ PD (Power Delivery)
Input, Voltage Range
110 - 240 (AC) V
Output, voltage (DC)
5.0 V (DC)
Output, max. amperage
3.0 A
General
Packaging type
Retail Polybag
Consumption Unit
1 pc. in polybag
Language Scope
Operation manual
cz, da, de, en, es, fr, it, nl, pl, se
€14.99 RRP
Packing units:
1 / 100 / 200
Item: 59357
EAN: 4040849593574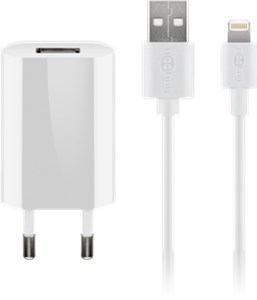 Goobay
Apple Lightning charger set 5W
power unit with Apple Lightning cable 1m (w...
Single product
---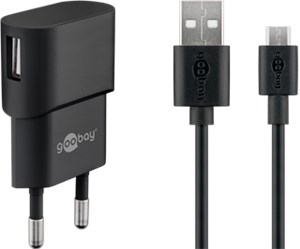 Goobay
Micro USB Charger Set 1 A
power unit with Micro USB cable 1m (black)
Single product
---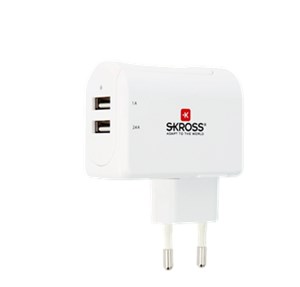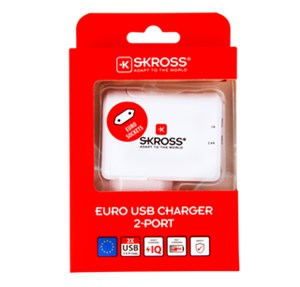 Skross
Euro USB Charger
lädt schnell und gleichzeitig bis zu zwei U...
Single product
---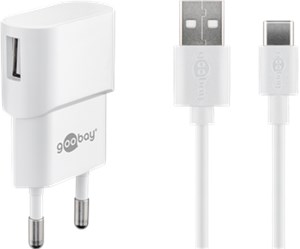 Goobay
USB-C™ Charger Set 1 A
power unit with USB-C™ cable 1m (white)
Single product
---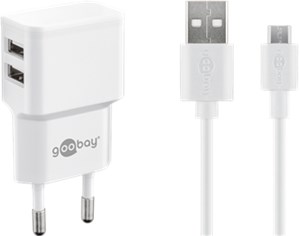 Goobay
Dual Micro USB Charger Set 2.4 A
power unit with 2x USB ports and Micro USB ...
Single product
---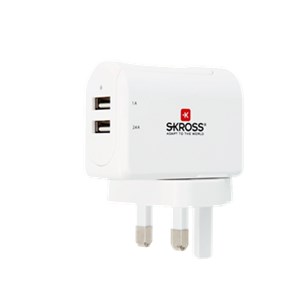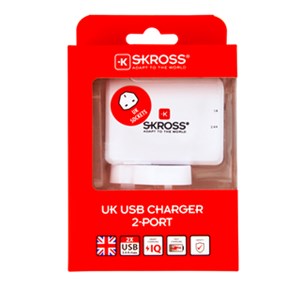 Skross
UK - USB Charger
charges quickly and simultaneously up to tw...
Single product
---