USB charger 1 A (5W) white
compact USB power supply with 1xUSB connector

USB charger 1 A (5W) white
compact USB power supply with 1xUSB connector
Article details
Small and compact - the flat design makes the power supply unit the ideal travel companion.
universally suitable for devices such as smartphones or tablets that are charged via USB or as a power supply unit for supplying power to devices via USB
compatible for many manufacturers like Apple iPhone or iPad, Samsung Galaxy series, Sony, Huawei, LG, Xiaomi
The integrated electronics protect against overload, overheating and short-circuit, thus providing optimum safety. load, overheating and short-circuit and thus offers the optimum safety.
Power supply unit with 100-240V input voltage range can also be used abroad.
Technical specifications
Performance
No-load power consumption
0.06 W
Device connections
Average active efficiency
76.1 %
Input, type
Euro male (Type C CEE 7/16)
Output, type
USB 2.0 female (type A)
Output, voltage (DC)
5 V (DC)
Input, Voltage Range
100 - 240 (AC) V
Output, max. amperage
1 A
General
Packaging type
Retail Polybag
Consumption Unit
1 pc. in polybag
Markings
CE, WEEE, Haus, Quader, Inddor use
Operating temperature from
-20 °C
Operating temperature up to
40 °C
Language Scope
Operation manual
de, en, fr, it, da, se
€9.99 RRP
Packing units:
1 / 125 / 250
Item: 44950
EAN: 4040849449505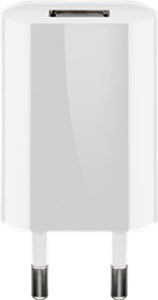 Goobay
TRA USB 1Port 5W (1,0A) Slim ws PL
Single product
---
Goobay
4-way USB charger (30W) black
multiple USB power supply for simultaneous ...
Single product
---
Goobay
Dual USB charger 2.4 A (12W) black
compact USB power supply with 2xUSB connect...
Single product
---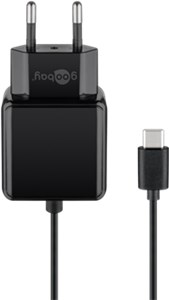 Goobay
USB CTM power supply 3.0A
universal charger for many small devices wi...
Single product
---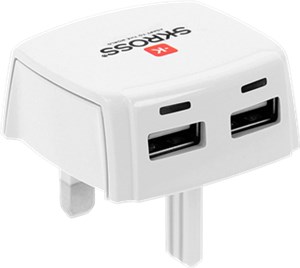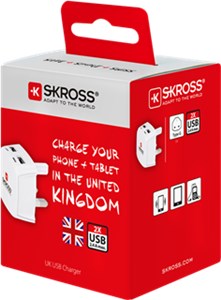 Skross
UK - USB Charger
charges quickly and simultaneously up to tw...
Single product
---