CAT 5e Patch Cable, F/UTP, grey
copper-clad aluminium wire (CCA)

CAT 5e Patch Cable, F/UTP, grey
copper-clad aluminium wire (CCA)
Article details
Our CAT cables transmit signals in top quality at high speed, always guaranteeing a stable connection. High-quality inner conductors, robust cable sheathing and precisely fitting plugs distinguish our portfolio of connection cables and plugs. Goobay always provides the perfect products for your network needs - whether you aim to set up a home or company network. Simply. All. You need!
Prewired, shielded CAT 5e LAN cable with 2x RJ45 plugs for connecting network components
Foil screen (F/UTP) prevents interference from external sources (crosstalk) and provides ideal signal distribution with minimal losses.
High-quality copper-clad aluminium wire (CCA) and gold-plated contacts guarantee an excellent, powerful network connection.
Latch protection on the RJ45 plugs prevents the latch from snagging or breaking off, helping to provide a reliable internet connection.
CAT 5e network cable suitable for Gigabit Ethernet with speeds of up to 10/100/1000 Mbit/s
Network connector: pair sequence according to EIA/TIA 568B, cable construction: twisted pair cable
Length of the Ethernet cable indicated on the overmoulded slimline strain relief.
Technical specifications
Connections
Connection, shielding
yes
Latch protection
both sides
Connection, type
RJ45 male (8P8C)
Connection 2, type
RJ45 male (8P8C)
Kink protection
both sides
Cable
Cable sheath diameter (approx.)
5.5 mm
Inner conductor material
CCA (copper-clad aluminium)
Type 1, shielding
foil (aluminium)
Material cable sheath
PVC
General
Special feature
Length indication on connector
Operating temperature from
-20 °C
Operating temperature up to
60 °C
Dimensions / Weight
Consumption Unit
1 pc. in polybag
Downloads
€2.49 RRP
Packing units:
1 / 10 / 250
Item: 50126
EAN: 4040849501265
Goobay
CAT 5e Patch Cable, U/UTP, magenta
copper-clad aluminium wire (CCA)
9 further products
---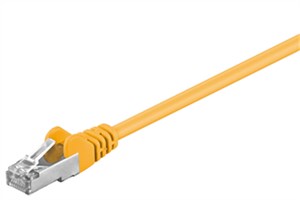 Goobay
CAT 5e Patch Cable, F/UTP, yellow
copper-clad aluminium wire (CCA)
11 further products
---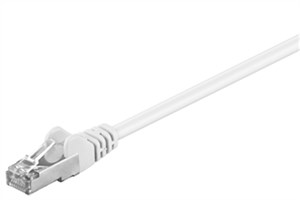 Goobay
CAT 5e Patch Cable, F/UTP, white
copper-clad aluminium wire (CCA)
13 further products
---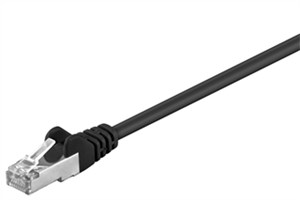 Goobay
CAT 5e Patch Cable, SF/UTP, black
copper-clad aluminium wire (CCA)
13 further products
---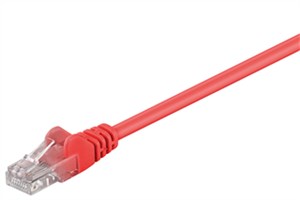 Goobay
CAT 5e Patch Cable, U/UTP, red
copper-clad aluminium wire (CCA)
10 further products
---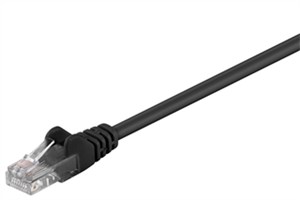 Goobay
CAT 5e Patch Cable, U/UTP, black
copper-clad aluminium wire (CCA)
13 further products
---